The amount of methamphetamine seized in Nebraska has surged 293 percent in the last five years with law enforcement agencies combining for approximately 768 pounds in 2021. Total nationwide methamphetamine seizures increased 77 percent from 2018-2019, the most recent data available.
What Is Meth?
Do you know how to spot the warning signs of meth use?

• Weight loss
• Abnormal sweating
• Shortness of breath
• Sores that do not heal
• Sleeplessness
• Irritability

• Twitching and shaking
• Decreased appetite
• Erratic attention span
• Aggression or violent behavior
• Hallucinations or paranoia
• Tooth decay

Short-term Effects of Meth

Even taking small amounts of meth can cause harmful health effects, including:

Increased blood pressure and body temperature
Faster breathing
Rapid or irregular heartbeat
Loss of appetite, disturbed sleep patterns, or nausea
Erratic, aggressive, irritable, or violent behavior

Long-term Health Risks of Meth

Chronic meth use can lead to many damaging, long-term health effects, even when people stop taking meth, including:

Permanent damage to the heart and brain
High blood pressure leading to heart attacks, strokes, and death
Liver, kidney, and lung damage
Anxiety, confusion, and insomnia
Paranoia, hallucinations, mood disturbances, delusions, or violent behavior (psychotic symptoms can sometimes last for months or years after meth use)
Intense itching, causing skin sores from scratching
Premature osteoporosis
Severe dental problems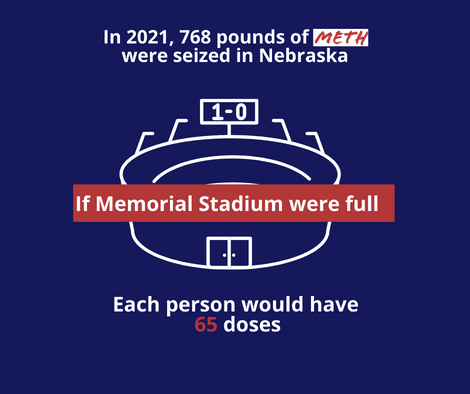 Methamphetamine (meth) is a synthetic stimulant that is addictive and can cause considerable health adversities that can sometimes result in death. Meth can be smoked, snorted, injected, or taken orally and is often used with other substances.
Someone using meth may experience a temporary sense of heightened euphoria, alertness, and energy. This is because meth increases the amount of dopamine, a natural chemical, in the brain. Dopamine is involved in body movement, motivation, and reinforcing rewarding behaviors. Meth rapidly releases high levels of dopamine into reward areas of the brain, making people want to continue to use meth.
Meth not only changes how the brain works, but also speeds up the body's systems to dangerous, sometimes lethal, levels—increasing blood pressure and heart and respiratory rates. People who repeatedly use meth may also experience anxiety, paranoia, aggression, hallucinations, and mood disturbances.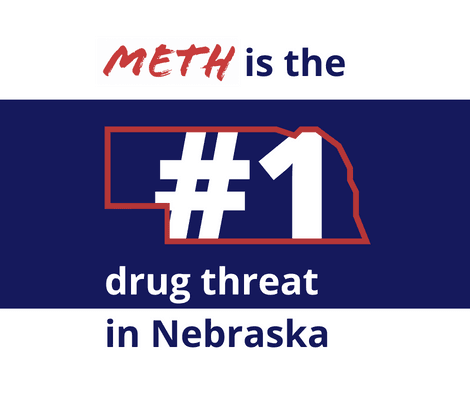 In response to the increasing threat of methamphetamine in Nebraska, federal, state, and local law enforcement agencies have formed a coalition to help sound the alarm. We want citizens to be fully informed about the dangers of meth consumption and understand the destruction it brings to communities by increasing crime, addiction, and health issues.
For more information on the coalition and the threat of methamphetamine in our Nebraska communities, please visit https://ago.nebraska.gov/life-or-meth. 
Resources
To report illegal drug activity call your local law enforcement agency or submit a tip online to the DEA. 
If you or someone you know is struggling with a methamphetamine addiction, visit www.findtreatment.gov to find treatment near you.
For information on meth visit the Substance Abuse and Mental Health Services Administration at www.samhsa.gov/meth
Help Is Available
Many people who could benefit from treatment do not know they have an addiction or do not think treatment will work for them. However, with the right treatment plan, recovery is possible. If you, or someone you know, need help to stop using substances – whether the problem is methamphetamine, alcohol or another drug – call SAMHSA's National Helpline at 1-800-662-HELP (4357) or TTY: 1-800-487-4889, or use the SAMHSA's Behavioral Health Treatment Services Locator to get help.