Colon Cancer Awareness and Prevention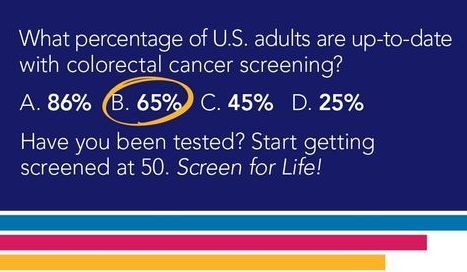 Women and men over the age of 50 are at an increased risk for colon cancer. Having regular screening tests beginning at age 50 could save your life. Screening can find precancerous polyps (abnormal growths in the colon or rectum) so they can be removed before turning into cancer. Screening can find colorectal cancer at an early stage, when treatment often leads to a cure.
The best way to reduce your colorectal cancer risk is to get screened regularly beginning at age 50.
About 1 in 3 adults (23 million) between 50 and 75 years old is not getting screened as recommended.
Colorectal cancer affects men and women of all racial and ethnic groups.
Colorectal polyps and colorectal cancer don't always cause symptoms, especially at first.
East Central District Health Department is part of the Nebraska Colon Cancer Screening Program (NCP).  The NCP is a colon cancer screening program that offers enrollment, screening and education to Nebraska men and women who are 50-74 years of age.
Who is Eligible for the NCP?
Male or Female
Age:  50-74
Must meet income guidel​​ines 
Must not have health insurance
US Citizen and Nebraska Resident
Program enrollment is based upon personal history, family history, and funding availability.
Tests and services may include:
Fecal Occult Blood Test (FOBT) kit for at-home testing and/or colonoscopy.  All screenings are based upon family and personal history and must be pre-approved by NCP staff. 
Colonoscopy following a positive Fecal Occult Blood Test
Review of health history and education about colon and rectal cancer screening
Colonoscopy as initial screening test if determined to be the best screening test based on health history
To see if you are eligible for the NCP, call (402) 562-7500.
Women and Men's Income Eligibility Scale for Colon Cancer Screening Effective July 1, 2022 - June 30, 2023