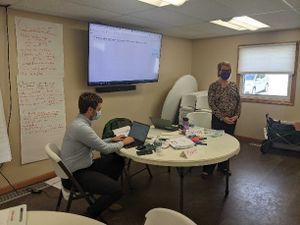 Guiding the Community Health Improvement Planning (CHIP) process is one of the most critical roles local health departments play in ensuring the health and well-being of the community. Understanding what issues community members find important to their own health allows residents and key stakeholders to guide strategic planning sessions to address pertinent, and emergent community issues and concerns.
In 2021, CHIP sessions were held in October and November in all four counties in the ECDHD jurisdiction. Through the CHIP sessions, ECDHD was able to connect with community organizations and members in each county to address health issues of interest in their county. During these meetings, local health data and topics were discussed, and prioritized.  Areas of interest  included many topics, from social determinants of health, to chronic diseases, mental health, and environmental health. Discussing these health issues within the community provided an opportunity to share resources and brainstorm what actions could be put in place to help the public live healthier, happier lives.
Let's use "access to healthy affordable foods" as an example.  If this is an issue in a community, ideas on how to promote WIC, SNAP, and Medicaid programs might be shared. Other opportunities that could help combat the identified health issues would also be discussed, including projects like community gardens, increased food pantries, and implementing regular farmer's markets. The goal of these discussions is to develop a list of viable ways to address the identified issue. Once those are developed, action plans that highlight short- and long-term goals are formed and stakeholders are identified.
CHIP planning not only helps identify the issues impacting health in ECDHD communities, it helps stakeholders work together to construct a positive framework for addressing the challenges, by sharing ideas and resources within the communities themselves.