West Nile Virus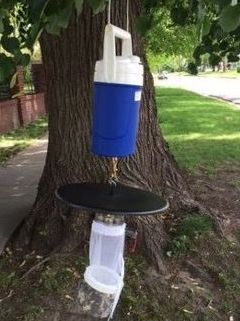 ECDHD and West Nile Virus Detection and Prevention
West Nile virus is most commonly spread by the bite of a mosquito infected with West Nile virus.  During mosquito season 2020, ECDHD, in collaboration with the Nebraska Department of Health and Human Services (NE DHHS), will once again be trapping mosquitoes for West Nile virus testing.  The collection and laboratory testing of mosquitoes helps the public health system determine how widespread West Nile virus is in our communities.
ECDHD will collect mosquitoes one night a week, every two weeks. Traps will be set out at Quail Run Golf Course, Elks Country Club Golf Course, the Bark Park, West Pawnee Park, and East Pawnee Park.  To ensure that mosquitoes can be properly collected, ECDHD asks that the public does not disturb the traps.  
Mosquitoes become infected when they feed on infected birds.  The public can help monitor the spread of West Nile virus by reporting dead birds via telephone or e-mail.  Only the Corvid species of birds (Blue Jays, Crows, Magpies, etc.) that are not damaged or decayed and have been dead less than 24 hours should be reported.  ECDHD will not be collecting birds for testing.  To report a dead or dying Corvid, please call Jacqueline Cruz at (402) 562-7500 ext. 281.     
West Nile virus was first detected in the United States in 1999.  Between 1999-2018, in the U.S., approximately 50,830 cases of West Nile virus, and 2,330 deaths from the virus were reported. West Nile virus first appeared in Nebraska in 2002, and since that time the state has seen cases every year, with a total of 3,972 reported cases. According to the NE DHHS, in 2019, there were 28 cases of West Nile virus and one death in Nebraska.
The greatest risk for West Nile virus infection is during late summer and early fall because the mosquitoes that transmit the virus increase in numbers during the summer.  While West Nile virus can be fatal, most people who are infected have no symptoms or only mild flu-like symptoms. About 1 in 150 people who are infected will become seriously ill.  People over the age of 60 and those with weakened immune systems are especially vulnerable to the disease and are more likely to experience serious consequences. Symptoms of severe illness include:
High fever.
Muscle weakness.
Stiff neck.
Stupor.
Disorientation.
Coma.
Tremors.
Convulsions.
Muscle weakness.
Vision loss.
Numbness and paralysis.
The most effective way to prevent infection from West Nile virus is to prevent mosquito bites.  To avoid mosquito bites, ECDHD recommends the following:
Avoid outdoor activities at dusk and dawn when mosquitoes are most active.
Use Environmental Protection Agency (EPA)-registered mosquito repellents containing DEET, picaridin, oil of lemon eucalyptus, Para-menthane-diol (PMD), 2-undecanone, or IR3535.
Wear long-sleeved shirt, pants, and socks.  Treat clothing and gear with mosquito repellant.
Use screens on windows and doors; repair holes in screens to keep mosquitos outdoors.
Eliminate standing water to reduce mosquito breeding sites.