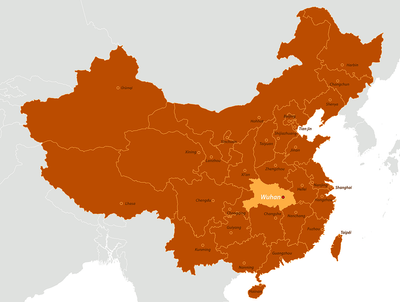 The Centers for Disease Control and Prevention (CDC) is closely monitoring an outbreak caused by a novel (new) coronavirus first identified in Wuhan, Hubei Province, China. Chinese authorities identified the new coronavirus, which has resulted in hundreds of confirmed cases in China, including cases outside Wuhan, with additional cases being identified in a growing number of countries internationally. The first case in the United States was announced on January 21, 2020. There are ongoing investigations to learn more.
Updates on the novel coronavirus outbreak can be found on this page.  For more detailed information, please visit the Centers for Disease Control website https://www.cdc.gov/media/releases/2020/p0117-coronavirus-screening.html or the CDC's novel coronavirus website  https://www.cdc.gov/coronavirus/2019-ncov/index.html?CDC_AA_refVal=https%3A%2F%2Fwww.cdc.gov%2Fcoronavirus%2Fnovel-coronavirus-2019.html
The Centers for Disease Control and Prevention (CDC) protects people's health and safety by preventing and controlling diseases and injuries; enhances health decisions by providing credible information on critical health issues; and promotes healthy living through strong partnerships with local, national, and international organizations.
The CDC and the Nebraska Department of Health and Human Services periodically send Health Alert Network updates to Nebraska healthcare providers, clinics, hospitals and public health departments.  We will post current HAN updates here; older HAN updates may be found on the HAN Update Archive page on this website.
Categories of Health Alert Network messages:
Health Alert - Requires immediate action or attention; highest level of importance
Health Advisory -  May not require immediate action; provides important information for a specific incident or situation
Health Update - Unlikely to require immediate action; provides updated information regarding an incident or situation
HAN Info Service - Does not require immediate action; provides general public health information