COVID-19 Vaccine Clinics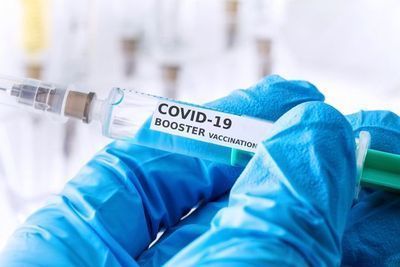 We are now scheduling COVID-19 vaccines for 1st and 2nd doses, as well as boosters for our Wednesday vaccine clinics. Clinic times are 10 a.m. - 7 p.m. every Wednesday, in the FEMA room at East Central District Health Department, 4321 41st Ave.  Please call (402) 562-7500 to schedule your appointment.  Pfizer, Moderna, and Johnson & Johnson vaccines are available.
CDC and FDA have expanded recommendations for COVID-19 booster shots to now include all adults, ages 18 years and older, who received the Pfizer or Moderna vaccine series at least 6 months ago.
For the nearly 15 million people who got the Johnson & Johnson COVID-19 vaccine, booster shots are also recommended for those who are 18 and older and who were vaccinated two or more months ago.
Clínicas de Vacunas Contra la COVID-19
Ahora estamos programando las vacunas contra la COVID-19 para las dosis 1ª y 2ª, así como refuerzos para nuestras clínicas de vacunas de los miércoles. El horario de la clínica es de 10 a. m. a 7 p. m. todos los miércoles, en la sala FEMA del Departamento de Salud del Distrito Este Central, 4321 41st Ave. Llame al (402) 562-7500 para programar su cita. Las vacunas Pfizer, Moderna y Johnson & Johnson están disponibles.
Los CDC y la FDA han ampliado las recomendaciones para las vacunas de refuerzo contra la COVID-19 para incluir ahora a todos los adultos, de 18 años o más, que recibieron la serie de vacunas Pfizer o Moderna al menos hace 6 meses.
Para los casi 15 millones de personas que recibieron la vacuna contra la COVID-19 de Johnson & Johnson, también se recomiendan las vacunas de refuerzo para las personas mayores de 18 años que se vacunaron hace dos o más meses.
COVID-19 Vaccines Sign Up and Information/Inscripción e información sobre las vacunas contra la COVID-19
The new Nebraska platform for signing up for COVID-19 vaccines, Microsoft's Vaccine Registration and Administration Solution (VRAS), is now live.  You can register by visiting vaccinate.ne.gov
If you need assistance registering, please call the NE State Vaccine hotline at (833) 998-2275 or (531) 249-1873.
If you do not have a phone, please enter the following Nebraska Hotline number, (531) 249-1873.  If you do not have an email address, enter the following dhhs.vacchotline@Nebraska.gov
---
La nueva plataforma de Nebraska para registrarse para las vacunas COVID-19, la Solución de Administración y Registro de Vacunas de Microsoft (VRAS), ya está disponible. Los de habla hispana deben registrarse en  https://vaccinate.ne.gov/es-ES/   
Si necesita ayuda para registrarse, llame a la línea directa de vacunas del estado de NE al (833) 998-2275 o (531) 249-1873.
Si no tiene un teléfono, ingrese el siguiente número de la línea directa de Nebraska, (531) 249-1873. Si no tiene un de correo electrónico, ingrese el siguiente correo de dhhs.vacchotline@Nebraska.gov
FREQUENTLY ASKED QUESTIONS
Q: What is VRAS, and how do I find it?

A:  VRAS is the Covid-19 vaccine registration portal.  It is an online scheduling tool to help individuals determine when they are eligible to receive the COVID-19 vaccine and help them schedule an appointment when it is their turn.  Find it at http://vaccinate.ne.gov/

Q: Can people from outside Nebraska register on the portal?

A:  Individuals may register if they live or work in Nebraska. Out of state residents who work in Nebraska can register in Nebraska and receive the vaccine through their Nebraska Health Care Provider or by using the provider locator in the Portal.

Q: What language does VRAS use?

A:  The Vaccine Registration Portal  is currently available in English and Spanish.  The Nebraska DHHS will consider expanding the language options as needed in the future.

Q: How can I register for the vaccine if I do not have access to a computer or smartphone?

A:  Individuals without computer or mobile phone access should first ask a friend or family member to help them. You also have the option to contact your Local Public Health Department or to call the NE State Vaccine hotline at 833-998-2275 or 531-249-1873 to register.

Q: Can I use my iPad to register?

A:  Yes, the vaccination registration solution is web based, so it can be accessed using any device with internet access (computer, mobile phone, or tablet). 

Q: Can anyone use VRAS, or only those of a certain age?

A:  Anyone can register – even children.

Q: If I have registered to receive the vaccine in another state, but I have recently moved to Nebraska, should I register again on the Nebraska vaccine portal?

A:  If you recently moved to Nebraska and you are now a Nebraska resident and you have not yet received the Covid-19 vaccine, you should use the portal to register.
Q: I had COVID-19. Do I need the vaccine?

A:  We recommend you receive the vaccine, even if you have already had COVID-19.

The protection someone gains from having an infection (called natural immunity) varies depending on the disease, and it varies from person to person. Since this virus is new, we do not know how long natural immunity might last.

The CDC reports that some early evidence suggests that natural immunity may not last very long. Getting the vaccine, even if you already had COVID-19, will help you protect yourself and others.

Q: What does fully vaccinated mean for me?

A:  In general, people are considered fully vaccinated: 

2 weeks after their second dose in a 2-dose series, such as the Pfizer or Moderna vaccines, or
2 weeks after a single-dose vaccine, such as Johnson & Johnson's Janssen vaccine

If you don't meet these requirements, you are NOT fully vaccinated. Keep taking all precautions until you are fully vaccinated.

If you have a condition or are taking medications that weaken your immune system, you may NOT be fully protected even if you are fully vaccinated. Talk to your healthcare provider. Even after vaccination, you may need to continue taking all precautions.

Fully vaccinated people can:

Visit with other fully vaccinated people indoors without wearing masks or physical distancing
Visit with unvaccinated people (including children) from a single household who are at low risk for severe COVID-19 disease indoors without wearing masks or physical distancing
Participate in outdoor activities and recreation without a mask, except in certain crowded settings and venues
Resume domestic travel and refrain from testing before or after travel or self-quarantine after travel
Refrain from testing before leaving the United States for international travel (unless required by the destination) and refrain from self-quarantine after arriving back in the United States
Refrain from testing following a known exposure, if asymptomatic, with some exceptions for specific settings
Refrain from quarantine following a known exposure if asymptomatic
Refrain from routine screening testing if asymptomatic and feasible
For now, fully vaccinated people should continue to:
Take precautions in indoor public settings like wearing a well-fitted mask
Wear well-fitted masks when visiting indoors with unvaccinated people who are at increased risk for severe COVID-19 disease or who have an unvaccinated household member who is at increased risk for severe COVID-19 disease
Wear well-fitted masks when visiting indoors with unvaccinated people from multiple households
Avoid indoor large-sized in-person gatherings
Get tested if experiencing COVID-19 symptoms
Follow guidance issued by individual employers
Follow CDC and health department travel requirements and recommendations
Scheduling and Reminders
Q: Can I use the Vaccine Registration Portal to schedule my vaccination appointment?

A:  Yes, upon completing the registration questionnaire, the portal will determine which phase you are eligible for.  When there is enough vaccine to move into that phase, you will be notified with an email containing a unique link to the scheduler in the Portal.

Q: If I use the Portal will I receive reminders for my appointment?

A:  Yes, the Portal will send an email for you to schedule your first and later your second dose appointments. If you do not schedule the appointment you will receive 3 reminders over a two-week period to schedule an appointment for your vaccination.

Q: Does the Portal track side effects?

A:  You will receive an email for the first three days after receiving your vaccine that contains a link to report any adverse side effects of the vaccination.

Q: Will individuals be prompted to schedule their second dose based on site & drug profile availability?

A:  Yes, for vaccines that require more than 1 dose, patients who receive the first dose will have a second dose scheduling prompt and will receive a reminder through email.

Q: Does the system contact patients to reschedule if a provider must cancel slots, such as the provider doesn't receive projected amount of vaccine?

A:  If the patient is scheduled through the portal and the provider cancels the appointment in the system, then yes, the patient will receive a cancelation email and a link to reschedule.

Q: What do I do if I need to make a change to my registration information?

A:  The portal does not allow changes after the form is submitted.

If you made a mistake on your registration or need to update information, individuals will need to work with a vaccine provider who is working in the Vaccine system as they can open your record to make changes.  You can do this at the time of your first vaccination or before.

Q: What happens if I need to cancel or reschedule my appointment?

A:  You will be able to cancel or reschedule your appointment through the Portal. However, because these appointments are in high demand, we ask that you schedule carefully to avoid any potential conflicts.

Q: What happens if I miss my appointment?

A:  If you miss your appointment, you will have to reschedule and book another appointment at the next available time slot. As these time slots are high in demand, please remember to mark your calendars and set reminders to avoid missing appointments.

Q: Can I register and schedule an appointment for multiple people in my household at the same time?

A:  Yes. You may register other members of your household by entering their individual information into the system. You may use the same email or phone number if all members of the household do not have their own. As appointments become available for each individual, they will be notified via email.
Vaccine Safety
Q: Is the vaccine safe?

A:  The vaccines are safe and effective. The FDA has rigorous scientific and regulatory processes in place that ensure the safety, effectiveness, and quality of COVID-19 vaccines. Throughout the entire process, the vaccines were evaluated for their safety and efficacy. Individuals should feel confident in receiving the vaccines.

Both the Moderna vaccine and the Pfizer vaccine have been shown in late-stage vaccine trials to be safe and very effective - 94.5% and 95% effective, respectively. We encourage all individuals to receive the vaccine when it becomes available to them.

Q: Was the vaccine rushed?

A:  No, the vaccine went through all the usual FDA-required assessments and regulatory processes.

With scientists and manufacturers around the world all focusing on combating COVID-19, parts of the vaccine production and manufacturing process were run concurrently. The FDA-approved COVID-19 vaccine is as safe and effective as any other FDA-approved vaccine.

Q: Are there side effects to any of the vaccines?
What Do I Do After My Vaccination?
Q: Can I stop following the 3 Cs (closed spaces with poor ventilation, crowded places, and close contact situations) once I have the vaccine/once other people around me have the vaccine?

A: If you are fully vaccinated, you can start doing many things that you had stopped doing because of the pandemic.

When choosing safer activities, consider how COVID-19 is spreading in your community, the number of people participating in the activity, and the location of the activity.

Outdoor visits and activities are safer than indoor activities, and fully vaccinated people can participate in some indoor events safely, without much risk.

If you haven't been vaccinated yet, find a vaccine.
More Information

V-safe is a smartphone-based tool that uses text messaging and web surveys to provide personalized health check-ins after you receive a COVID-19 vaccination. Through v-safe, you can quickly tell CDC if you have any side effects after getting the COVID-19 vaccine. Depending on your answers, someone from CDC may call to check on you and get more information. And v-safe will remind you to get your second COVID-19 vaccine dose if you need one.
Your participation in CDC's v–safe makes a difference — it helps keep COVID-19 vaccines safe.  Learn more about V-safe here.
What is Emergency Use Authorization? (EUA)