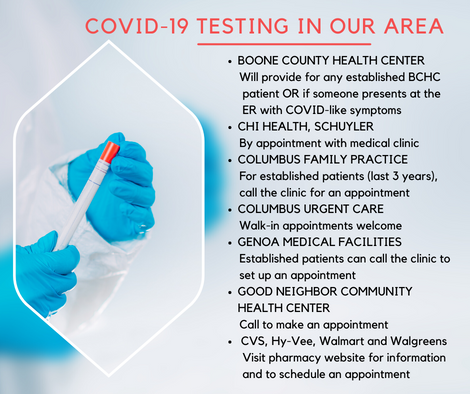 People with COVID-19 have a wide range of symptoms, and the CDC has now expanded that list to include:
Fever or chills
Cough
Shortness of breath or difficulty breathing
Fatigue
Muscle or body aches
Headache
New loss of taste or smell
Sore throat
Congestion or runny nose
Nausea or vomiting
Diarrhea
Symptoms may appear 2-14 days after exposure to the virus.  Some people with the virus remain asymptomatic (they do not have symptoms), but can spread the virus to others.  ECDHD will continue to update this information when necessary.
---
If you think you have been exposed to COVID-19 and develop a fever and symptoms of respiratory illness, such as cough or difficulty breathing, call your healthcare provider.
Please self-report by phone to ECDHD's COVID19 Hotline if you have been in close contact with a person with a confirmed case of COVID-19.
Hotline Number:  (402) 562-8960  (Monday - Friday 8 a.m. - 5 p.m.)
Persons who need general information about COVID-19 should call 2-1-1 or the NE Dept. of Health and Human Services COVID-19 Information Line at (402) 552-6645.
---
COVID-19 (Novel coronavirus)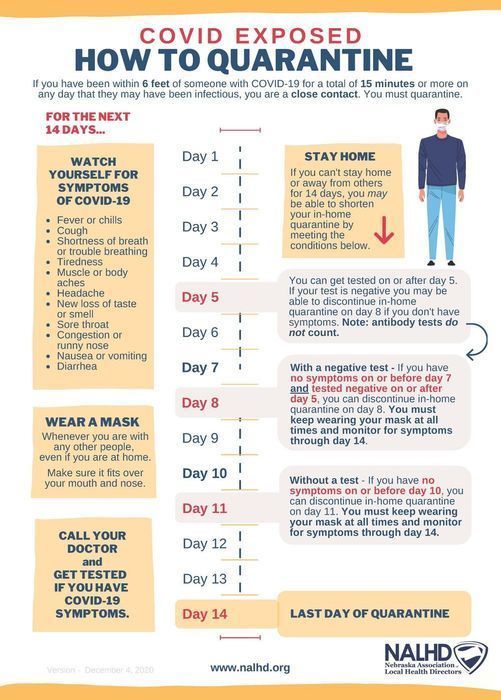 Most people infected with the COVID-19 virus will experience mild to moderate respiratory illness and recover without requiring special treatment.  Older people, and those with underlying medical problems like cardiovascular disease, diabetes, chronic respiratory disease, and cancer are more likely to develop serious illness.
The best way to prevent illness is to avoid being exposed to this virus.  CDC always recommends everyday preventive actions to help prevent the spread of respiratory diseases, including:
Avoid close contact with people who are sick.

Avoid touching your eyes, nose, and mouth.

Stay home when you are sick.

Cover your cough or sneeze with a tissue, then throw the tissue in the trash.

Clean and disinfect frequently touched objects and surfaces using a regular household cleaning spray or wipe.

Medical-grade facemasks should be used by people who show symptoms of COVID-19 to help prevent the spread of the disease to others. The use of facemasks is also crucial for health workers and people who are taking care of someone in close settings (at home or in a health care facility).

Wear cloth face coverings when out in public.  These masks are NOT a replacement for social distancing measures.

Wash your hands often with soap and water for at least 20 seconds, especially after going to the bathroom; before eating; and after blowing your nose, coughing, or sneezing.

If soap and water are not readily available, use an alcohol-based hand sanitizer with at least 60% alcohol. Always wash hands with soap and water if hands are visibly dirty.
Protect Yourself and Others
More Information about COVID-19
Everyday Life with COVID-19