COVID-19 (Novel coronavirus)
Until May 31, 2020, all four counties in the ECDHD jurisdiction are under Directed Health Measure orders which will then be replaced by new State DHMs.  Information on the new Phase II and Opening Guidelines can be found at: Phase II and Reopening Guidelines
The current and new DHMs, along with documents with specific guidance for various sectors, can be found and accessed below.
COVID-19 is an infectious disease caused by a newly discovered coronavirus.
Most people infected with the COVID-19 virus will experience mild to moderate respiratory illness and recover without requiring special treatment.  Older people, and those with underlying medical problems like cardiovascular disease, diabetes, chronic respiratory disease, and cancer are more likely to develop serious illness.
The best way to prevent and slow down transmission is be well informed about the COVID-19 virus, the disease it causes and how it spreads. Protect yourself and others from infection by washing your hands or using an alcohol based rub frequently and not touching your face. 
The COVID-19 virus spreads primarily through droplets of saliva or discharge from the nose when an infected person coughs or sneezes, so it's important that you also practice good health habits (for example, by coughing into a flexed elbow).
If you think you have been exposed to COVID-19 and develop a fever and symptoms of respiratory illness, such as cough or difficulty breathing, call your healthcare provider.
Please self-report by phone to ECDHD's COVID19 Hotline
I

f you have traveled outside the state in the last 14 days, OR
If you have been in close contact with a person with a confirmed case of COVID-19
(402) 562-8960  (8 a.m. - 8 p.m.)
(402) 302-0705  (8 p.m.- 8 a.m.)  
Persons who need general information about COVID-19 should call 2-1-1 or the NE Dept. of Health and Human Services COVID-19 Information Line at (402) 552-6645.
CDC has introduced "Clara," a new online Coronavirus Self-Checker tool that the general public can use to help make decisions about seeking appropriate medical care. It is NOT intended for the diagnosis or treatment of disease or other conditions, including COVID-19. This system is intended only for people who are currently located in the United States.  Find out more at https://www.cdc.gov/coronavirus/2019-ncov/symptoms-testing/symptoms.html?deliveryName=DM24192
Social Distancing: What It Is and Why It Matters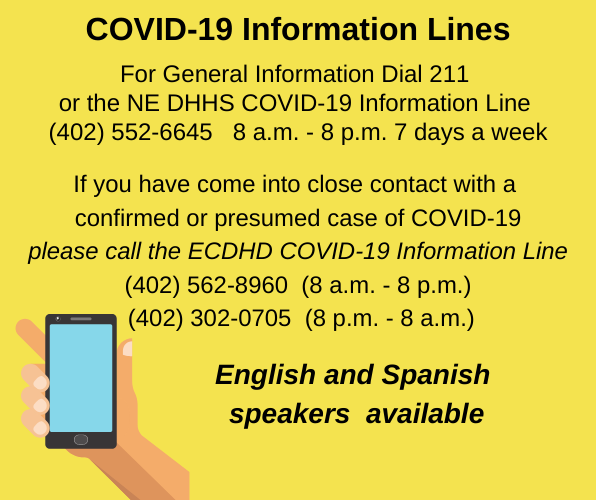 Social distancing is deliberately increasing the physical space between people to avoid spreading illness.
Many of us have been disappointed to hear that so many sports events, cruises, festivals and other gatherings are being cancelled.  Maybe you are missing a wedding out of town, or had tickets to a concert that was postponed or cancelled.  In Nebraska, many schools have cancelled classes, businesses have sent workers home to work or shortened their hours, and most restaurants are only doing take-out.  It is normal to feel sad, scared or even angry about this disruption to our normal way of life.
But there is an important public health reason for these measures. These cancellations help stop or slow down the spread of COVID-19, allowing the health care system to more readily care for patients over time.
Cancelling events that are likely to draw crowds is an example of social distancing. Staying at least six feet away from other people lessens your chances of catching COVID-19.
Other examples of social distancing that allow you to avoid larger crowds or crowded spaces are:
Working from home instead of at the office

Closing schools or switching to online classes

Visiting loved ones by electronic devices instead of in person

Cancelling or postponing conferences and large meetings
Protect Yourself and Others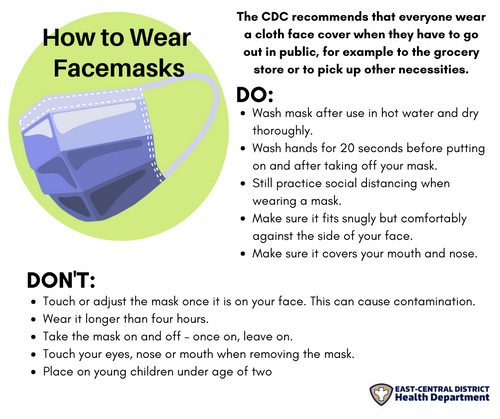 There is currently no vaccine to prevent COVID-19.  The best way to prevent illness is to avoid being exposed to this virus.  However, as a reminder, CDC always recommends everyday preventive actions to help prevent the spread of respiratory diseases, including:
Avoid close contact with people who are sick.

Avoid touching your eyes, nose, and mouth.

Stay home when you are sick.

Cover your cough or sneeze with a tissue, then throw the tissue in the trash.

Clean and disinfect frequently touched objects and surfaces using a regular household cleaning spray or wipe.

Medical-grade facemasks should be used by people who show symptoms of COVID-19 to help prevent the spread of the disease to others. The use of facemasks is also crucial for health workers and people who are taking care of someone in close settings (at home or in a health care facility).

The CDC now recommends persons use cloth face coverings when out in public.  These masks are NOT a replacement for social distancing measures.

Wash your hands often with soap and water for at least 20 seconds, especially after going to the bathroom; before eating; and after blowing your nose, coughing, or sneezing.

If soap and water are not readily available, use an alcohol-based hand sanitizer with at least 60% alcohol. Always wash hands with soap and water if hands are visibly dirty.
More Information about COVID-19
Everyday Life with COVID-19